The murder of a journalist and activist, always fighting for the cause of the poor, marginalised and tribals, Gauri Lankesh on 5 September in Bengaluru has once again brought a focus on the sorry state of affairs in the Indian society. Its has also put a BJP in a line of bother as Gauri Lankesh  was continuously criticizing BJP policies and its policies towards Muslims and the marginal of India, as we can simply assume form some Facebook  and twitter posts of the BJP affiliated men rejoicing the death of the journalist.
The killing of writer and journalists has put India and the ruling BJP in a tight spot as it is facing criticism from all quarters. Its doesn't matter how much the ruling party takes into its stride, but its position in human rights violations and India's press freedom index is surely coming to low.
In 2015, India had reported targeted killings of six media professionals, including those from news channel Aaj Tak and Hindi daily Dainik Jagaran, the report states.
In 2016 Tarun Mishra, Bureau Chief of Jan Sandesh Times, died on 14 February; Indradev Yadav, Journalist with Taaza TV, on 16 May; Rajdeo Ranjan, Bureau Chief of Dainik Hindustan on 13 May; Kishore Dave, Bureau Chief of Jai Hind on 22 August and Dharmendra Singh, Correspondent of Dainik Bhaskar on 12 November, the report noted.
The rise of BJP to power and with no strong opposition, it is autocracy like situation in India and also it is like undeclared emergency where a ruling party is enjoying unprecedented powers. The only powerful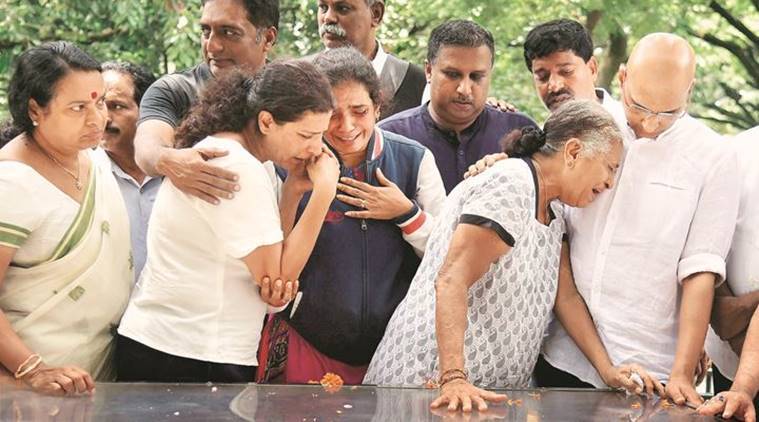 voice it is unable to stop is independent media and some outspoken journalists and writers. Over the years there have also been some writers murdered by right wing forces for speaking truth to power and the exploiter. Dabholkar, Pansare and Kalburgi fell to the bullets of the rogues against which and of whom exploiting practices they spoke. These writers were simply speaking against and educating the masses about the superstitious and exploiting practices of the upper and ruling  classes.
The murder of Gauri Lankesh is a reminder that all is not going well in Indian polity and society and India as India is failing on all standards and has been reduced to banana republic to say the least. Muslims are being killed for eating or simply on suspicion of transporting or eating beef and the voices who spoke for the voiceless are choked, threatened and at last killed for their resistance and braveness.
Gauri Lankesh spoke in what she believed in. She was fearless who always spoke truth to power and on behalf of the poor tribal and marginalized. She was a fierce critic of current regime, of its policies and wrong doings and communal and hate politics. She knew and believed in what she was doing, but she had a strong belief in what she was saying. She had the strong courage and belief in her preservence.
Gauri Lankesh fell to the hate and bullets of hater who was feeling insecure on his chair, the coward who had no arguments to counter the voice of voiceless. And it is sure a murderer has no argument but only hate and cowardness in his mind for others. He only knows nothing about argument or dialogue and he who does not know anything about dialogue can be violent or he simply believes in violence and terror.
The terror and violence taken a toll of minorities and the voices who are critical of government's ill policies. People are just being killed for speaking the truth or simply for arguing on some critical issue.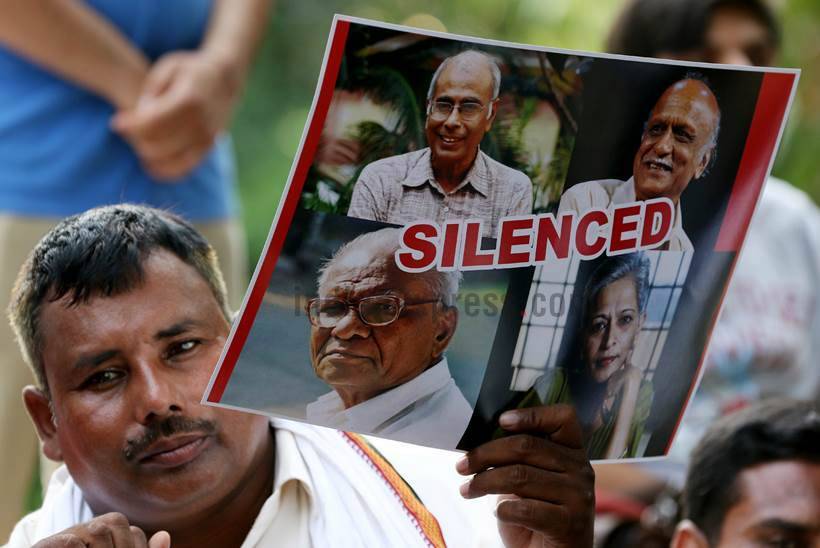 Voices are being choked and silenced. To shut up the voice of voiceless, which question the ruling regime and he doesn't shut his voice, it is simply to murder the person who holds it and pass the buck to unknown and prolong the process of investigation to hoodwink and befool the public. This is happening in India from long time and has got pace from last 3 years. The present regime simply doesn't believe in dialogue and argument. Its only argument is wrapped in violence and terror.
Gauri Lankesh's murder is simply a murder of journalism and free voice and it is also a slap on a country who claims to be the largest democracy in the world. It proves that how pen is mightier than the sword but at the same time this murder has proved once again that independent and critical voices are in great danger in the present regime.