Dialogue Times Special Report:

The Taliban have appointed Qari FasiUddin as Army chief. Originally from Badakshan province, the Tajik commander was once pronounced dead by then Afghan government claiming it an astounding victory, though rebutted by the Taliban.
On 06 September 2019, the Afghan ministry of defence proudly announced that the "most dangerous and powerful Qari had been killed in Warfoj district of badakshan province of Afghanistan. Ironically, just 2 years later, Qari entered Panjsher, the last standing resistance against Taliban – as conqueror – cheating another claim of his death by the opposition, this just a day before proving himself not just alive but also conquered of last standing hurdle against his regime.
Jamiat e Islami, headed by late Burhan Uddin Rabbani was once considered a power in Badakshan. Famous gorilla leader from the neighbouring Panjsher, Ahmad Shah Masood was its military commander. Jamiat was famous for its resistance against the Soviet. Geography of Panjsher further helped Masood to become a hero by keeping Panjsher undefeated. Masood became so outgrown as a hero that he disassociated himself from Burhani and established his own authority as he earned title of "the Lion of Panjsher". Masood was eventually killed by Taliban on 09 September 2001 while resisting their authority in previous Taliban rule.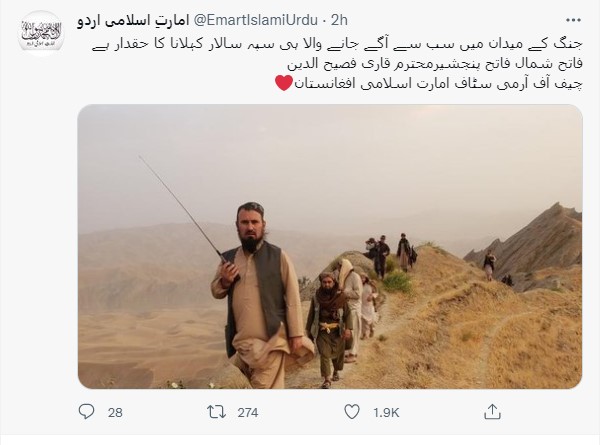 Taliban think tank insisted on including other ethnicities in the higher circles to discredit the indictment of being a Pashtun ethnic group. At the time Qari Fasihuddin, a Tajik, was also included among the others. Gradually he was elevated on important positions and became shadow governor of Badakshan Province. He also served as a senior deputy military commander under Mulla Yaqoob, newly appointed Afghan defence minister. The Tajik commander was given command to overcome resistance in Panjsher valley, the biggest Tajik concentrated area in Afghanistan. He completed his mission on Monday the 06 September 2021, exactly 2 years after he was pronounced dead.